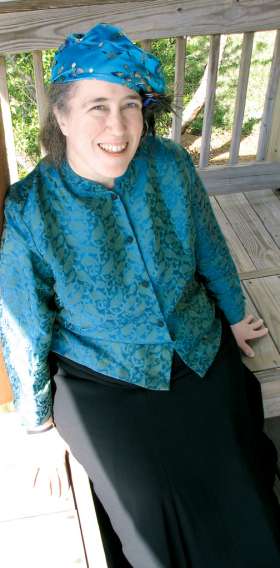 Biography
Greer Gilman has been writing stories set in Cloud, her Northern mythscape, for a quarter of a century. Her love of British lore and landscape, of its rituals and ballads, is a constant in her work; her love of language at its roots. Her books are written for the ear, as much as for the understanding. Like the earliest stories, they are meant to be sung.
Asked by Bob Kuhn to provide a brief verse biography for a panel, she supplied:
Tiptree, World Fantasy,
Greer, of the Gilman kind,
Writes - and has written of
Jonson and Cloud;

Gives airy nothing a
Life and a larynx, in
Mythopoetical
Ink, and aloud.
Besides her two books, Moonwise and Cloud & Ashes, she has published short work, poetry, and criticism. "Down the Wall", a post-apocalyptic Cloudish story, first appeared in the World-Fantasy-Award-winning anthology Salon Fantastique (and is now available online in the Weird Fiction Review. "She Undoes" came out in The Faces of Fantasy, and "The Moon-Hare" in Mythic Delirium 19. In 2006, she gave a paper, "'...but shadows...': Shakespearean Voices in the Literature of the Fantastic," to the Shakespeare Association of America. Her essay, "Girl, Implicated: The Child in the Labyrinth in the Fantastic" appeared in the Journal of the Fantastic in the Arts, 19.2. She contributed a chapter on "The Languages of the Fantastic" to The Cambridge Companion to Fantasy Literature.
Cloud & Ashes was joint winner of the 2010 Tiptree Award,
Greer Gilman was a Guest of Honor at Readercon 20 in 2009 (see Lev Grossman's account in Time magazine). She has also been a Guest of Honor at the International Conference on the Fantastic in the Arts (2008), and an invited speaker at the Art/Sci'98 Symposium held at the Cooper Union in New York. She was a John W. Campbell finalist for 1992.
Greer Ilene Gilman was educated at Wellesley College and the University of Cambridge, where she studied on a Vida Dutton Scudder Fellowship. At Cambridge, she read Renaissance English and met with Jomsborg, a circle of fantasists. There she heard Alan Garner speak, had tea with Lucy Boston, and began to think of writing myth. A sometime forensic librarian and cataloger of the polyglot at Harvard, she lives in Cambridge, Massachusetts, and travels in stone circles.
---
---
"Gilman is a singular constellation, a unique voice in American letters whose attention to language rivals that of Joyce and Nabokov. I urge readers to delve into Gilman's world, savor the wine she has patiently produced for us (a rich, multi-layered Burgundy or Cahors)."
Daniel A. Rabuzzi, Lobster and Canary
Photograph © Liza Groen Trombi